Children's Grief Awareness Month Recap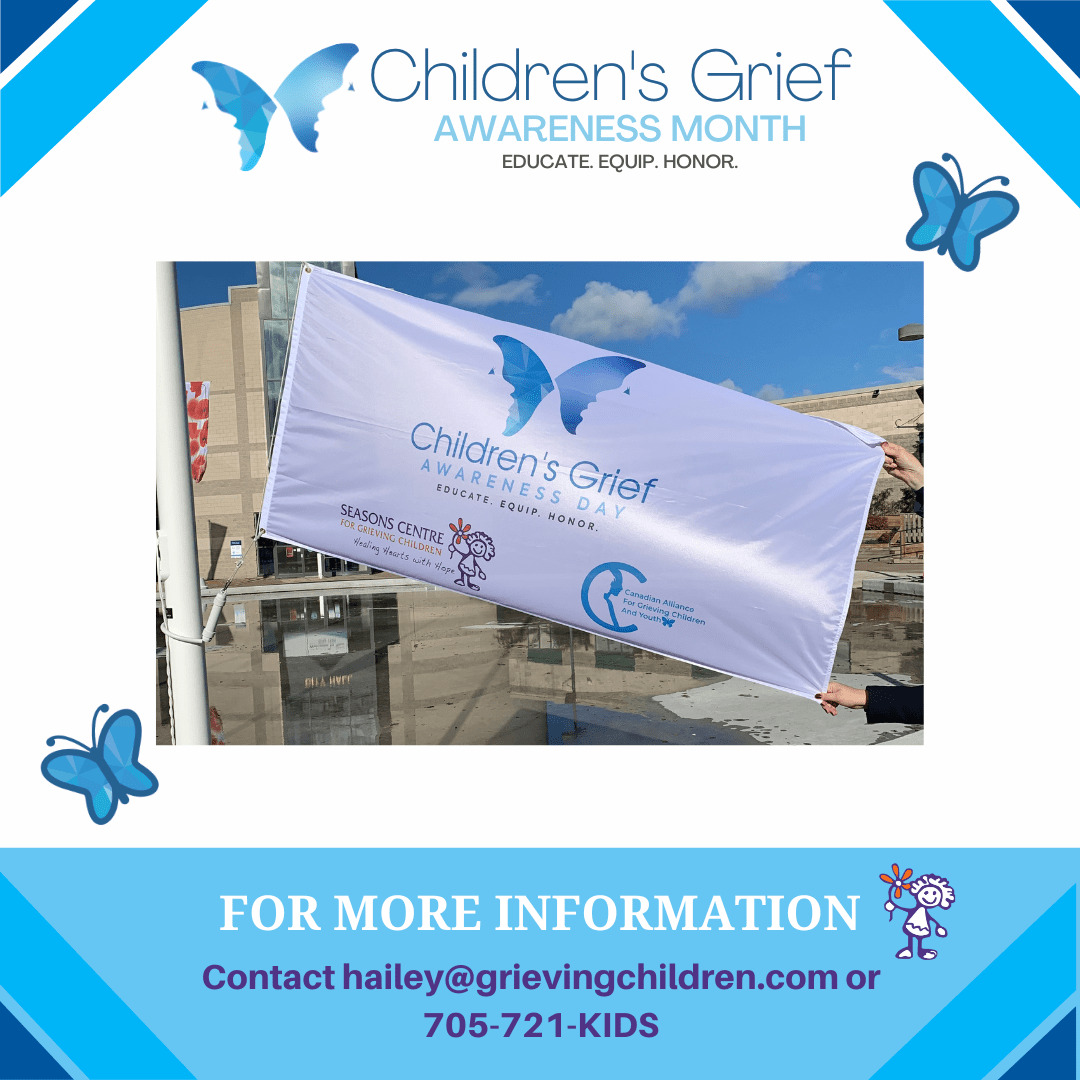 With the help of our community, partners and team, Seasons Centre successfully hosted a number of campaigns and events in honour of Children's Grief Awareness Month throughout November.
On November 1st, to commemorate the start of Children's Grief Awareness Month, Seasons Centre alongside our community partners Hospice Simcoe , Gilda's Club Simcoe Muskoka and Rainbows For All Children Canada hosted a flag-raising event. We want to thank representatives from the offices of MP Doug Shipley , MP John Brassard, Member of Parliament Barrie-Innisfil and MPP Doug Downey as well as Mayor-Elect Alex Nuttall on behalf of Mayor Jeff Lehman for being a part of the event.
Throughout the month of November, Seasons Centre staff, buddies and participants have participated in our #HoldingontoHope Campaign. Check out the video below to see what they are holding onto hope for or to see their thoughts about Seasons Centre!
The Butterfly is a symbol hope to grieving children across the world. No one can take away a child's grief or bring back the person who has died, but we can show children who are grieving that they're not alone. We can show them we care and that we're there for them. Children who are grieving can hold on to our support, our care, and in turn onto hope.
Throughout the month of November, Seasons Centre invited local businesses and the community to join us in Lighting the Town Blue to show support to children and youth who are grieving. The centre was lit up blue and members of our staff also lit their homes blue as well!
We want to thank these local businesses, organizations and community members for supporting Seasons Centre by partaking in our campaign and for raising awareness: Will Marshall Insurance Brokers, Extend Communications, Grant Thornton, Data Gives Back, Lighthouse for Grieving Children, Hospice Simcoe as well as Alex and Tara Robinson.
On November 17TH, which is Children's Grief Awareness Day, we hosted our Light the Town Blue event where we had an amazing night hanging out with everyone, participating in a relaxing meditation led by Nina Purewal and singing songs with country music singer Jason McCoy!
Thank you to Nina Purewal, Jason McCoy and everyone who came out on November 17th to help us Light the Town Blue! Also, we want to give a huge thank you to our volunteers and Stephen Michael from Michael Enterprise Audio & Visual, you all played a critical role in our event!
Our goal over the month was to highlight the needs of grieving children and of the benefits they obtain through the support of others. The goal of our campaigns and events were to bring awareness to grieving children and youth. We appreciated everyone's support throughout November!