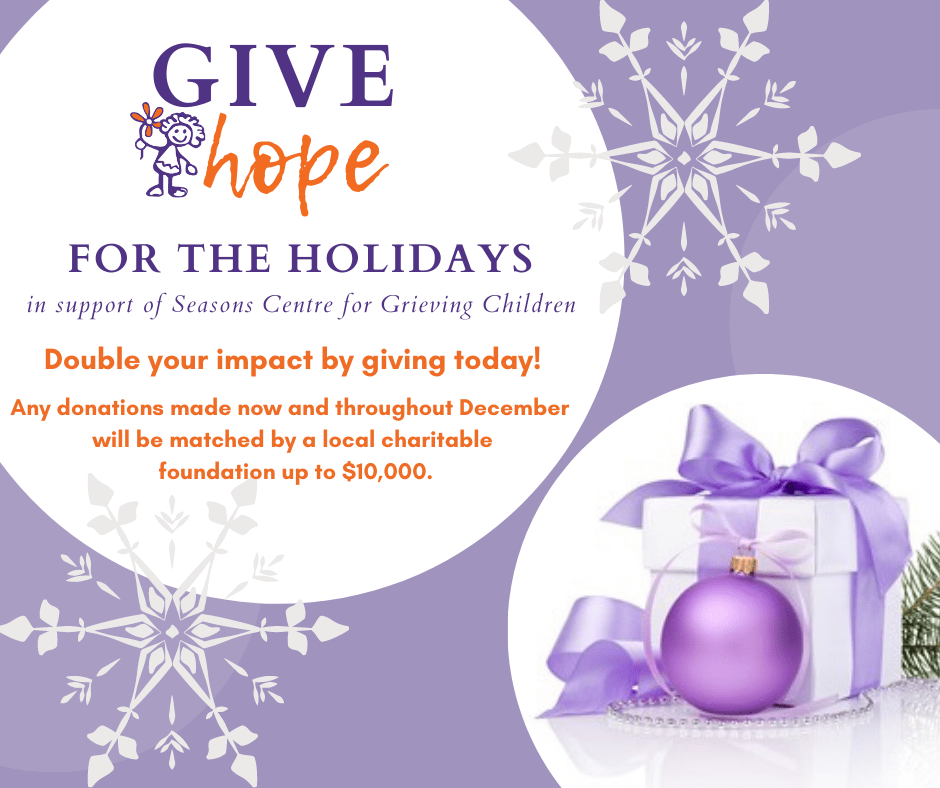 Seasons Greetings!
The holiday season is upon us, a time that invokes reflection. Have you found yourself thinking about what is truly important to you more than usual over this past year? We know we have. We have been reflecting on what is most important to us, family, strong personal connections, a sense of community, health, and happiness. What we've noticed more deeply, is our appreciation of what it means to be part of this community. We continue to be inspired by the dedication of our donors and volunteers who devote themselves to improving the lives of others. Together we are building strong communities by bringing people together to serve a common goal, helping children and families grieving the death of a loved one, to heal their hearts with hope.
Season Centre continues to offer free programs and services to our communities, thanks to kind and caring, community minded donors.
On behalf of our participants, volunteers, and Board of Directors, can we count on you to make a donation of $5 per month or more, to help Season Centre provide grief support all year round?
Giving your gift today will allow us to provide comfort and hope to our participants on their grieving journey, so they don't have to feel alone.
Double the impact of your gift by giving Today!
Any donations made now and throughout December will be matched by a local charitable foundation up to $10,000!
How Donations Help Children and Families on Their Grieving Journey:
"I have learned that it is okay to be sad and confused and that I'm not the only person who feels this way and I have learned multiple ways to let my grief out."
"Sometimes I feel like I'm different at school but here I know that everyone understands"
"Group has helped me how to not be sad all the time"
We hope you'll consider giving your gift today, and since it will doubled until the end of the year, there's no better time to support a child who is grieving. Every gift makes a difference.
Thank you in advance for your support to help heal hearts with hope. We wish you a healthy and happy holiday season!
With a grateful heart,
Seasons Centre for Grieving Children
P.S. Any donations made now and throughout December will be matched by a local charitable foundation up to $10,000! We hope you take advantage of this generous matching gift offer right away so that you have twice the impact on healing heart with hope.