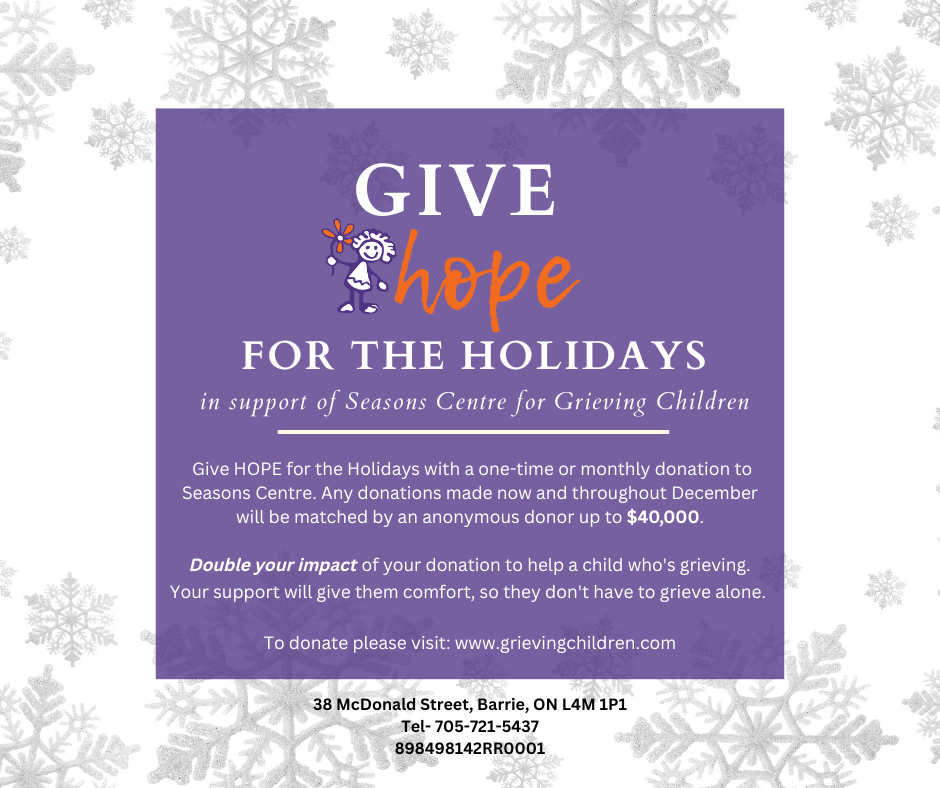 Seasons Centre for Grieving Children was founded in loving memory of Samantha and Jessica Ramey. We have been providing services to children and their families who are grieving, in a warm and caring atmosphere since 1995. Thanks to the generosity of the community all our programs are free of charge.
Youth mental health support is needed now more than ever. Especially during the holiday season. When one loses a significant person in their life, it can be difficult to celebrate, and holidays can magnify the loss. The need for grief support is essential during the holidays. Holidays are a critical aspect of one's grieving journey and knowing the coping mechanisms to navigate this journey can help children and youth during this process.
"Attending Seasons has helped because it makes me feel less alone and I can relate to others in group. It comforts me knowing there are people I can talk to other than my friend at school who does not really relate to me" – Seasons Centre Teen Group Participant
"Seasons Centre for Grieving Children has given my children a place to feel safe in sharing about their grief. A place to not feel alone or different from other kids, and connect with other who have shared in the same type of loss as them. It's not always easy to talk about suicide, but this group has helped normalize this conversation for my kids. And I am grateful." – Seasons Centre Caregiver Group Participant
If you or a young person you know needs support after the death of a significant person in their lives, we're here for you. Please contact Kate, at [email protected] to find out more about our peer support programs and grief resources available in our community.
How you can help
Children who are grieving the death of a loved one can often feel alone in their grief, being left to struggle with the complexity of it. This holiday season, put your hands in theirs and give hope to children and youth who are grieving. Any donations made to Seasons Centre made within December will be matched by an anonymous donor up to $40,000. Giving your gift will allow us to provide comfort and hope to our participants on their grieving journey, so they don't have to feel alone. Season Centre continues offering free programs and services to our communities, thanks to kind, caring, community-minded donors.
We hope you'll consider giving your gift today, and since it will be doubled until the end of the year, there's no better time to support a child who is grieving. Every gift makes a difference. Thank you in advance for your support to help heal hearts with hope, you will be having twice the impact! We wish you a healthy and happy holiday season!
Supporting one child in a Peer Support Group is approximately $1,600 per year.
You can also become a Seasons Centre monthly donor and you will give hope all year long to a child who is grieving, so they don't have to feel alone.
---