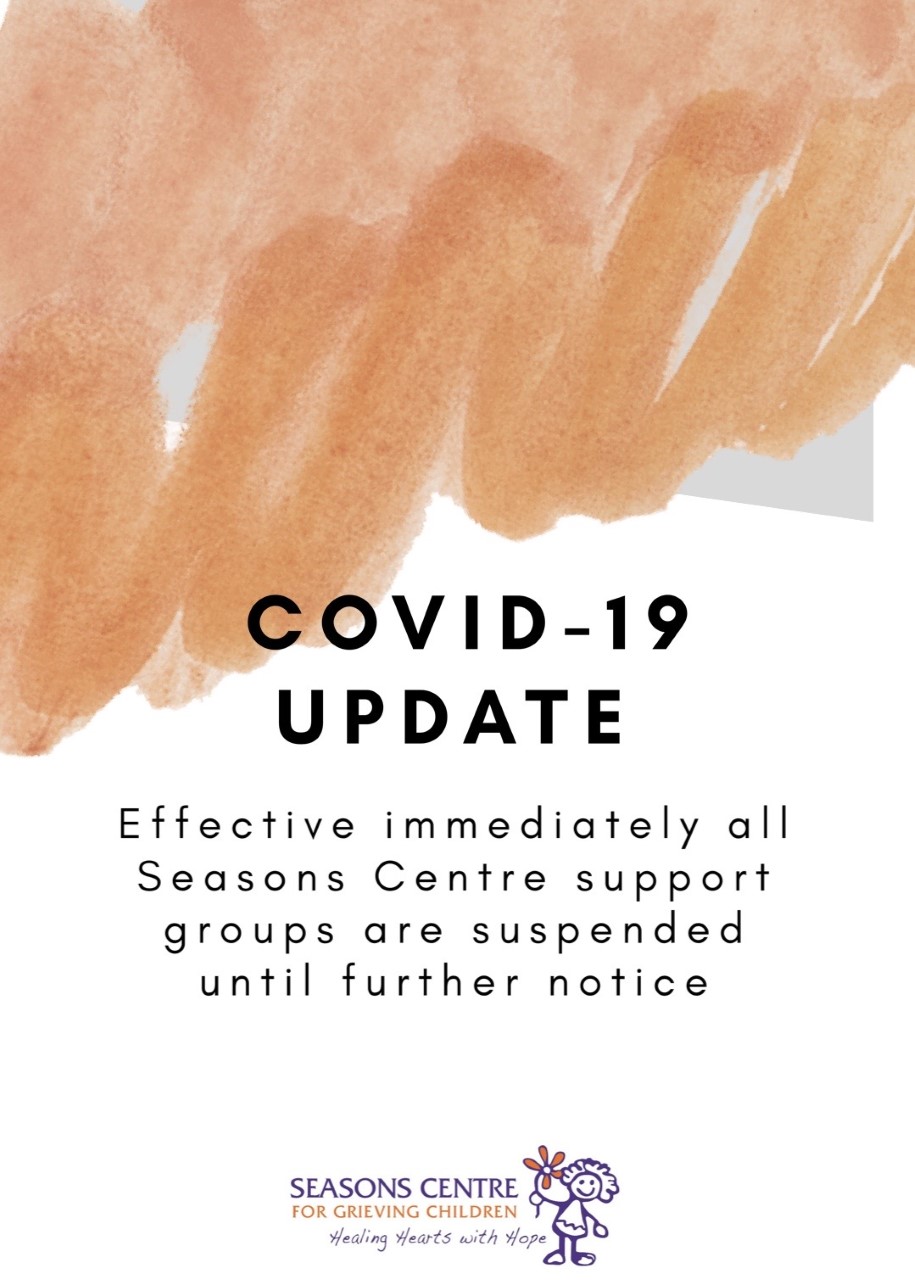 Information Regarding Seasons Centre for Grieving Children Support Groups:
In light of the rapidly developing public health crisis regarding Coronavirus/COVID-19, effective immediately, until further notice Seasons Centre will NOT be convening support groups. This decision was not made lightly, however the health, safety and well-being of our Seasons Centre community of families, volunteers and staff is of the utmost importance to us. In addition, Seasons Centre has a responsibility to assist in supporting efforts to minimize the transmission of COVID-19 within the broader community.
With each passing hour, we are being advised with stronger language by scientist and reputable news sources, that the situation is going to get exponentially worse before it gets better, and the only way to mitigate the risk is through social distancing. Remember, it's not the risk of getting the virus itself that gives us a reason to be cautious; it's the risk of passing it on to someone else who passes it on to someone for whom it's much more serious. As such during this time, our team will be working remotely but leveraging the full resources of the centre so that staff and resources remain available to our participants and the community.
It is important that we work together as a community and support one another in the coming weeks and throughout this public health crisis. We continue to monitor this situation closely and will provide ongoing updates as needed. As the Coronavirus/COVID-19 situation is quite fluid in nature we also encourage our participants, volunteers, guests and team members to stay up-to-date through the SMDHU or Canada's Public Health website.
Talking to Children About COVID-19:
It is very important to remember that children look to adults for guidance on how to react to stressful events. If parents seem overly worried, children's anxiety may rise. Parents should reassure children that health and school officials are working hard to ensure that people throughout the country stay healthy. However, children also need factual, age-appropriate information about the potential seriousness of disease risk and concrete instruction about how to avoid infections and the spread of disease. Teaching children positive preventive measures, talking with them about their fears, and giving them a sense of some control over their risk of infection can help reduce anxiety. More information and suggestions can be found on our here.
We thank you for your continued patience and understanding during this challenging time and we look forward to welcoming you soon.