27th Annual Tender Hearts Gala 2023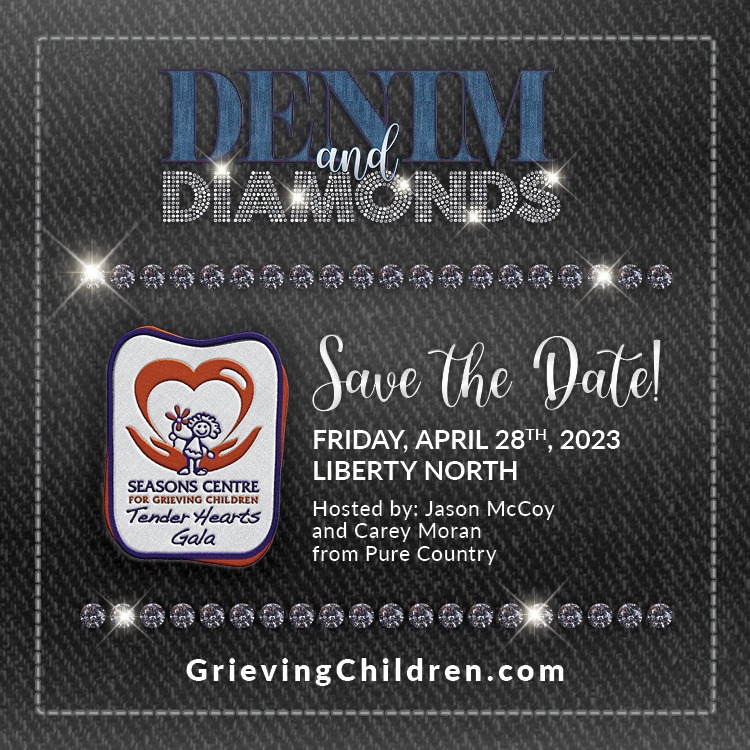 For latest info, click here.
To purchase tickets, click here.
We are excited to our announce our theme for Seasons Centre's Annual Tender Hearts Gala taking place at Liberty North on April 28th, 2023…

Drum roll please our much awaited for theme for 2023 will be DENIM and DIAMONDS.
NEW this year every ticket will be entered into a draw to win a trip to Nashville, USA!!
Our hosts Jason McCoy and Carey Moran from Pure Country will take guests through an entertaining evening, where you can wear your best denim or your fanciest formal. This is going to be a high-energy, jeans-preferred affair filled with delicious cuisine, music, and entertainment, as well as a spectacular live and silent auction with virtual options!
Every day, an average of more than 10 Canadians die by suicide and for every death by suicide, at least 7 to 10 survivors are profoundly affected by the loss. At a time when suicide is the second leading cause of death for children and youth, youth mental health support is needed more than ever. The cost to support one child is $1600 for the year. Your support will make a big impact!
Proceeds will benefit Seasons Centre for Grieving Children's peer support groups for children, teens, and their families grieving the death of a loved one. Together with your support, we can provide comfort, education, and support during one of the most difficult times families will face. We do not charge a fee for our services; we rely on the generosity of our community